Good Morning, Class of '64
Rag Rugs and Painting the Floors
Wall-to-wall carpeting was not known in those farm houses. In fact, carpeting of any kind was not common. We had linoleum floors throughout the house with some rag rugs in the living room and bed rooms.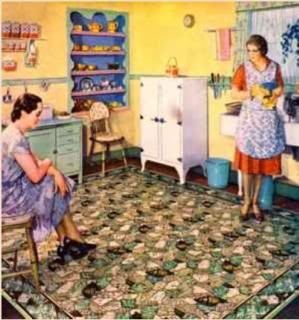 Grandma's Kitchen - https://yesteryearsnews.wordpress.com
The floors were one-inch lumber, probably poplar, not tongue-and-grooved. Before linoleum became available and affordable, they were very hard to keep clean. As the wood dried, cracks formed admitting cold air and dirt.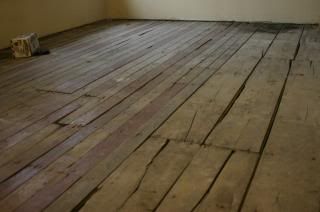 greenliferetreats.com
Linoleum was a great invention. It came in sheet form, 12 feet wide and cut to length. It had many colorful, attractive patterns and was easier to keep clean. It was laid on the floor much like carpeting.
Seams between two pieces were covered with a one-inch metal strip. It was tacked around the walls. Most people put several layers of newspaper under it to soften the edges of the boards and to provide some insulation.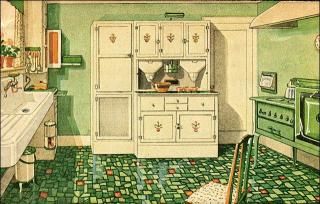 1930s Kitchen
Linoleum was about the thickness of the very cheap self-sticking floor tiles now available. It had a hard, shiny surface on a softer, flexible backing. The surface wore quickly so we
painted it. I helped Mom paint our living room linoleum. We painted the entire surface with battleship gray enamel. Then Mom applied a pattern with a sponge dipped in dark blue. She blotted the excess paint from the sponge and touched it lightly on the linoleum. That created a very attractive pattern. Remember, repair, improvise, make do, or do without was our way of life.
http://sallypreston.blogspot.com/2012/06
Our rag rugs were homemade. Some were braided, some were knitted or crocheted, and some were woven on a loom. Most started as one-inch strips torn from old sheets, old clothes, and any other salvageable fabric available. The strips were sewed together end-to-end and rolled in a ball. Most of our rugs were woven. I can remember taking 3 or 4 shopping bags full of soccer ball size balls of rag rug strips to the weaver at one time.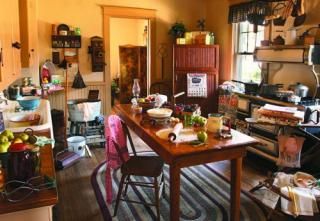 Grandma's Kitchen - http://box-of-treasures.blogspot.com
Mom always wanted a loom, and when the weaver in Valley Head retired, Mom bought hers. Mason, of course, fine-tuned it. It was a wood-framed contraption about four and one-half feet tall, three feet wide, and four feet deep. It had two
rows of very strong cotton cords about 1/8 inch apart across the width of the frame. The fabric strip was threaded across the frame between the rows of cord. Then the rows of cords were crossed over the fabric strip and were slammed against it securing it tightly. That compressed the one-inch strip to about 1/8 inch. That process was repeated hundreds of times until the desired length of the rug was reached. It took about 100 strips per foot of rug. The cords were cut and knotted with about an inch sticking out from the rug forming tassels.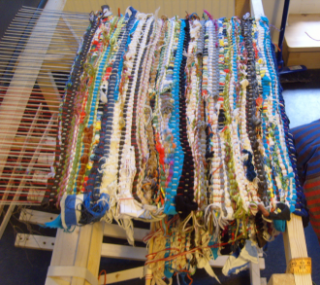 Making a rag rug
The rugs were attractive and colorful. Patterns could be created in them. They were durable and washable. And the only cost was the cords.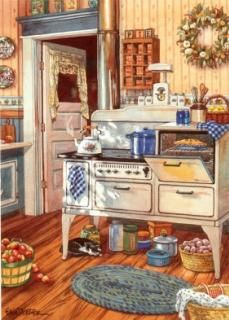 Grandma's Kitchen - Erin Dertner
Rags to Riches


A 1953 song recorded by Tony Bennett with
Percy Faith and his orchestra. It was number
one for eight weeks on the Billboard chart
and became a gold record.


Tony Bennett - 1963


http://en.wikipedia.org/wiki/Rags_to_Riches_%28song%29
I know I'd go from rags to riches
If you would only say you care
and though my pocket may be empty
I'd be a millionaire
My clothes may still be torn and tattered
But in my heart I'd be a king
Your love is all that ever mattered
It's everything
So open your arms and you open the door
To every treasure that I am hoping for
Hold me and kiss me
And tell me you're mine ever more
Must I forever be a beggar
Whose golden dreams would not come true?
Or will I go from rags to riches?
My fate is up to you
Must I forever be a beggar
Whose golden dreams would not come true?
Or will I go from rags to riches?
My fate is up to you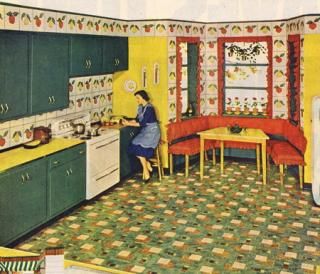 1937
Linoleum Love
http://www.creativepro.com/content/scanning-around-gene-linoleum-love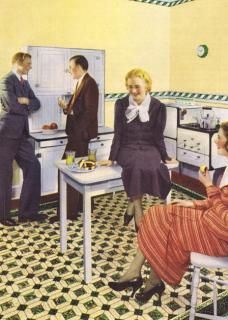 1934
31 linoleum rugs from Armstrong
1954
http://retrorenovation.com/2012/08/29/31-linoleum-rugs-from-armstrong-1954/