Good Morning, Class of '64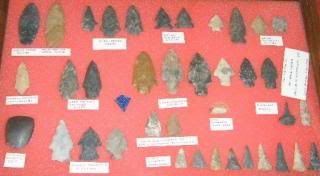 From Tu-Endie-Wei State Park Point Pleasant, WV
I have always been fascinated by the arrowheads and pieces of flint we found in the fields on the farm. I thought it was incredible to look at an arrowhead and think that an individual had actually made and used it as much as two hundred years ago. I later discovered from archeology books that some of the arrowheads were actually closer to two thousand years old.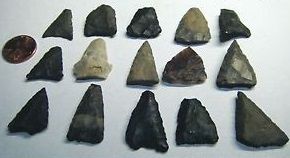 From Seneca Rocks, Pendleton County, WV
We found most of them while cultivating and hoeing corn, but they could be spotted in almost any tilled ground. Walking through a tilled field after a rain brought especially good results.
Excavation, Green Bank, West Virginia
It's sad that this land will probably never be plowed again - the only arrowheads or flints that will ever be found again would have to result from a deliberate excavation.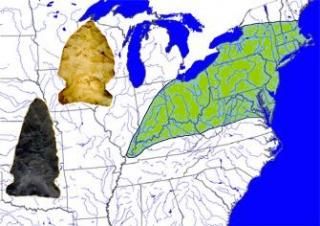 Stone Age Spear and Arrow Points
A man named Edwin Scott from Norton, West Virginia, was a serious arrowhead collector. He had hundreds, perhaps thousands. He was talking about them while visiting my Uncle Bob one time. Uncle Bob said that there were no arrowheads anywhere on his farm. A little later, Edwin said that he was going to go out and pick up an arrowhead. Uncle Bob scoffed at him, but he found one less than 100 feet from the house.
http://geology.com/rocks/flint.shtml
We know so little of the peoples who have lived on this continent. We really don't know much about the tribes who were living here when the first Europeans arrived. And we know much less about the tribes that preceded them. Yet they were individuals, men, women, and children, who lived, loved, laughed, hurt, grieved, feared, and died, just as we do. It's a shame we do not understand them better.
Two Tribes of the Eastern Woodlands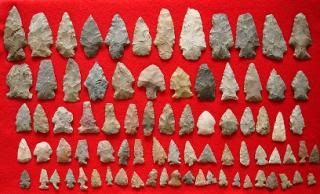 Arrowhead Collection Ray Wyatt
Indian Arrowheads
http://www.raywyatt.net/photo4_1.html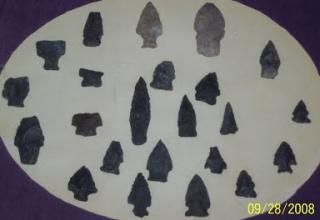 Arrowhead Collection - Janet Smart - WV
Indian Arrowheads Spark My Imagination


Janet Smart - Writing in the Blackberry Patch
http://janetsmart.blogspot.com/2008/09/indian-arrowheads-spark-my-imagination.html
Prehistory of West Virginia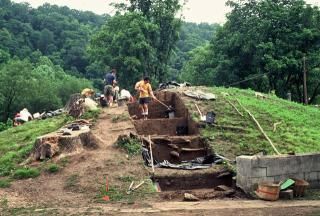 Cotiga Mound Excavation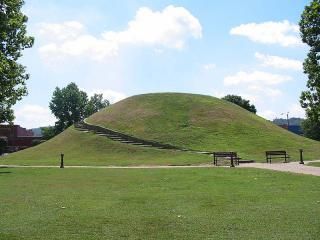 The Criel Mound, South Charleston, West Virginia
Grave Creek Mound, Moundsville, West Virginia
Grave Creek Mound
Moundsville, West Virginia
Grave Creek Mound
Archaeological Complex
Moundsville, West Virginia
Part I
Grave Creek Mound


Archaeological Complex
Moundsville, West Virginia
Part II