Good Morning, Class of '64
Ecclesiastes 3:1-8
King James Bible
1 To every thing there is a season,
and a time to every purpose under the heaven:

2 A time to be born,
and a time to die;
a time to plant,
and a time to pluck up that which is planted;

3 A time to kill,
and a time to heal;
a time to break down,
and a time to build up;

4 A time to weep,
and a time to laugh;
a time to mourn,
and a time to dance;

5 A time to cast away stones,
and a time to gather stones together;
a time to embrace,
and a time to refrain from embracing;

6 A time to get,
and a time to lose;
a time to keep,
and a time to cast away;

7 A time to rend,
and a time to sew;
a time to keep silence,
and a time to speak;

8 A time to love,
and a time to hate;
a time of war,
and a time of peace.
Audio Bible Book
We had some interesting customs regarding deaths and funerals, and a few downright strange things happened in those circumstances.

The first fatal airplane crash in Randolph County happened just south of our farm on a Cheat Mountain peak called Fool's Knob. Mom and Dad, along with Jim Ware who was cutting firewood on Beech Flat, were the last people to see the airplane before it crashed.
Lt. Everett H. Bobbitt, Jr., of Hot Springs, Virginia, was flying it. He was flying home from Uniontown, Pennsylvania on Christmas Day, 1931. He had clearance to proceed to Hot Springs via Cumberland, Maryland. But he decided to fly the more direct route over Elkins, West Virginia.
The day was heavily overcast. Mom and Dad saw him circle our farm three times, very low. The mountains south are higher than our farm. He apparently kept flying lower and lower in order to stay below the clouds. It appeared that he had cleared the crest of Fool's Knob and then decided to turn back north. In his banking turn, the lower wing tip hit the top of a tall tree. It then dived nose down to the ground and burned.

The wreckage was not discovered until January 7. Marley Simmons and Carl Reaser of Valley Head, guided by Marley's dog "Coaley," found the plane. A group of over 60 men went in to recover the body. An undertaker from Hot Springs and F.E. and Julius Runner, undertakers from Elkins, were in the party. They went in at night.

A radio personality from Elkins was also in the party. As they approached the crash site, the smell of burned flesh was overpowering. The radio announcer tried to make jokes about that saying things like "Soup tonight, boys, we'll have soup tonight." The local men were very offended by that. They all removed their caps in respect to the dead and were silent except for necessary conversation about the recovery of the body. They pretty much shunned the radio guy all the way out. Several men got separated from the main group on the way out, got lost, and some of them did not make it out for 2 or 3 days.

Mr Charles H. Chapman of Elkins wrote a very good account of that crash and recovery titled First Fatal Plane Crash in Randolph County. Other parts of this story came from Mom.
Psalm 23
A Psalm of David
New International Version
1 The Lord is my shepherd,
I shall not be in want.
2 He makes me lie down in green pastures,
he leads me beside quiet waters,
3 he restores my soul.
He guides me in paths of righteousness
for his name's sake.
4 Even though I walk through the valley
of the shadow of death,
I will fear no evil,
for you are with me;
your rod and your staff,
they comfort me.
5 You prepare a table before me
the presence of my enemies.
You anoint my head with oil;
my cup overflows.
6 Surely goodness and love will
follow me all the days of my life,
and I will dwell in the house
of the Lord forever.
The Lord is my Shepherd
Maureen Hegarty
Day 24
Another Day with Larry
When I was just a little boy, a neighbor, Mrs. Mary Gay, died. At that time, the body was always brought back to the house for a wake - family members stayed awake with the body all night.
Mrs. Gay lived on the other side of Logan Run from the road. A 3-foot-wide footbridge was the only way across the creek to the house. That bridge was too narrow to carry a casket over it so the men who had come to help (All the men in the community were there - that was simply the thing to do.) waded the creek with the casket. She died in early spring so the creek was knee deep or a little deeper. As they were crossing the creek, two of the men on the downstream side of the casket slipped and fell to their knees in the water. The undertaker, F.E. "June" Runner, Jr.,went into the creek, in his expensive suit and dress shoes, down on his knees under the casket, saying, "My God, don't lose her, boys!" Undertakers had a difficult job.

There has been a Runner Funeral Home in Elkins since 1918. F.E. Runner, Sr., started it. He trained his three sons, Julius, Bill, and "June," to continue in the business. Family problems drove the three apart although each remained in the undertaking business. The Runner Funeral Home was operated by June until his death. His daughter Cheryl continued the family tradition and business. June handled the arrangements for both Dad and Mason, and Cheryl handled Mom's arrangements.

Dad and June were very close friends. That friendship had an unusual beginning. June had a funeral at Ware's Ridge at about 2:00 P.M. Dad and Mason, along with the rest of the community men, helped get set up when June brought the body at 11 or 11:30. After getting everything ready in the schoolhouse/church, Dad invited June and his crew to eat dinner with us. It was pretty much automatic to invite anyone who was in the area at mealtime to come in and eat.
During the meal, June told about his getting some corn while conducting a funeral at Ware's Ridge. The minister, a Methodist named Rev. Frahley, was known for long sermons - June said that he had once timed Rev. Frahley's funeral prayer at 49 minutes so he knew he would have plenty of time to explore. He found a field of corn that was just right for roasting ears so he took a dozen or so.
Dad asked him several questions about when that had happened. Then Dad looked him in the eye and said, "You son of a bitch, you were burying my father-in-law and stealing my corn at the same time." Then, I'm sure to June's relief, he laughed. Every summer after that, we took a dozen or two roasting ears to June.

When Dad died, the Memorial General Hospital did an autopsy as was required by law since it was an unattended death. When we got to the funeral home for the viewing, June was visibly furious. He didn't tell us why, but he described the hospital as those "blankty-blank blank butchers" and a few other less complimentary terms.
One of our cousins worked in public relations for that hospital. She decided to straighten June out. He took her into his office, and she came out a few minutes later looking like a whipped pup. One of his employees later told Mason and I what had happened. He explained, with great delicacy and tact, that Dad was a much stronger man than the pathologist realized. When he closed the abdominal-thoracic incision, he didn't suture it adequately. When June unwrapped the body of a good friend, the abdomen and chest cavities were laying open and looking horribly mutilated. It was simply too much for him.

While we were at the funeral home with Mom, June's daughter Cheryl was visibly very upset. I talked with her about that, and she said that her dad had always told her that when you quit feeling it, it's time to quit the business. That makes for a great undertaker - Cheryl seems like part of our family, as did her father. But it was certainly hard on her, as it was on her father.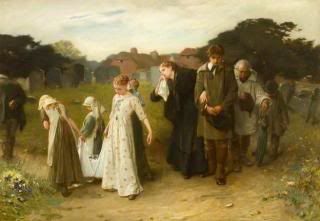 Funeral of the First Born - Horsham
Grieve not, nor speak of me with tears
Isla Paschal Richardson
Grieve not, nor speak of me with tears, but laugh
And talk of me as if I were beside you.
I loved You so—
'twas heaven here with you.
Beyond the Sunset
Hank Williams
Day 23
My first experience as a pall bearer was for my great uncle Forrest See, sometime in the early 1960's. We had 3 sets of pall bearers and needed them all. We had to carry the casket quite a distance up over the hill at the See cemetery on the west side of the Tygart Valley River just south of Elkwater Creek.
One of the men on my shift kind of took over and got us lined up by height, tallest to shortest from one end to the other. I soon realized the importance of doing that when you have to carry the casket any distance or up or down a steep hill. I've tried to do that same thing every time I've had that sad duty since.

One of the town drunks in Valley Head (We had several!) died in a house fire. He had come home drunk from a beer joint, built up his fire, and gone to sleep or, more likely, passed out, and the fire escaped from the stove setting his house on fire. He lived alone so was the only one to die.
After the funeral, Dad and several other men were in the general store talking about it. One of them said, "Well, I reckon there's no doubt about where old So-and-so is now." Some Southern Baptist ministers had recently come into the area to plant a church. One of them heard that comment. His response impressed Dad so much that he told us about it that evening, and his description impressed me so much that I still remember it.
The minister said emphatically not to ever say that about anyone. He said that God could have given that man, drunk as he was, a clarity of mind long enough to repent. He said that it is not for us to judge anyone; that is God's prerogative. As I have tried to follow Jesus, I have been so very impressed with that wisdom. The Scriptures clearly teach that God wants no one to perish, and that He will go the extra mile to give every person a chance to be saved. That gave me a lot of hope when Mason was killed in a house fire in 1975.

When Dad died in 1963, we didn't bring him back to the house. He was the first in our community not brought back to the house. We buried him at Ware's Ridge instead of the family Cemetery. That was his wish. He wanted to be buried where he had lived.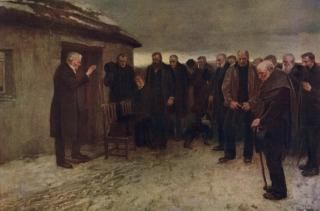 A Highland Funeral - Sir James Guthrie
Crossing the Bar
And one clear call for me!
And may there be no moaning of the bar,
When I put out to sea,
But such a tide as moving seems asleep,
Too full for sound and foam,
When that which drew from out the boundless deep Turns again home.
Twilight and evening bell,
And after that the dark!
And may there be no sadness or farewell,
When I embark;
For tho' from out our bourne of Time and Place
The flood may bear me far,
I hope to see my Pilot face to face
When I have crossed the bar.