Good Morning, Class of '64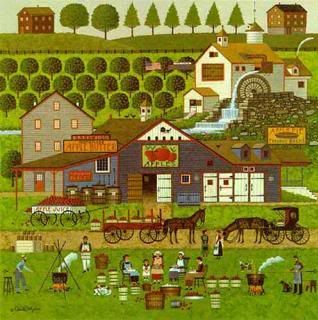 Apple Butter Makers - Charles Wysocki
Making apple butter was a great time. Extended family and neighbors worked together for the day.

The day before, several bushels of apples were peeled. Some were cooked into apple sauce for a starter in cooking the apple butter.

On the big day, a fire was laid outside under the freshly-scrubbed copper kettle. Our kettle held 20 or 25 gallons. The apple sauce starter was poured into the kettle, and the fire was lit.

It had to be stirred constantly all day. Apples stick and scorch very easily. We all took turns. The stirrer was home made of wood. It was L-shaped. The handle was about five feet long. The stirrer part was a 3-inch board about 2 feet long attached and braced at a right angle to the handle. The end was slightly rounded to fit the contour of the kettle, and several large holes were drilled in it. The smoke from the fire seemed to be attracted to the person stirring. By the end of the day, a path was beaten into the grass surrounding the kettle by the stirrers circling to avoid the smoke.

The rest of the peeled and quartered apples were added gradually throughout the day.

Some pennies were always dropped into the kettle. At the end of the day, they were bright and shiny, a treat for the kids. The apple butter was flavored with cinnamon and other spices - each family had its own recipe. Oil of cinnamon and/or cinnamon hard candies were used. The ideal jar of apple butter is more red than brown. That's why ground cinnamon was not used. Sugar was added to taste.

In late afternoon, when the apple butter master (Mom, in our family) declared it done, it was canned. The kettle was cleaned, and the pennies were given to the kids.

The aroma of the spicy apple butter cooking combined with the wood smoke was special.

I like to make apple butter in a crock pot. I use ground cinnamon. It's easier, and it tastes good even if it is a little more brown. But I do miss the slight, perhaps imagined, flavor of wood smoke.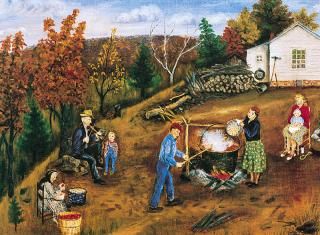 Making Apple Butter - Queena Stovall