Good Morning, Class of '64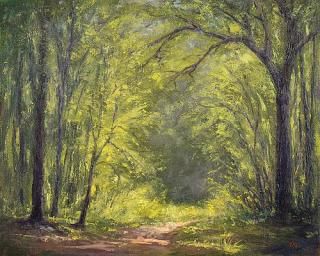 Summer Woodland -Joe Kaszimieczyk
There is a serene and settled majesty
to woodland scenery that enters
into the soul and delights and elevates it,
and fills it with noble inclinations.
Washington Irving
Day 18

On our farm of 115 acres, we had about 20 acres of tillable ground and about 30 acres of pasture. The rest was woodland. Dad and Mom had to farm the land alone before their kids got old enough to help so that was probably about all the land that they could manage. It was a pretty good balance.

The woodland was valuable. It provided wood for many purposes, a small cash income from time to time, some food, and a few other products. Our woodland was largely an oak-hickory stand with locust, maples of all kinds, poplar, basswood, beech, birch, gum, cherry, and a few other species.

The most valuable single species was the American chestnut. There were a lot of them, and they grew very large, up to 100 feet tall. They were all killed in the 1930's by the chestnut blight.
Most of the log houses and barns were predominately chestnut although poplar, oak, and other species were used. Chestnut was readily available and was soft and easy to hew square sides and to chop notches. Chestnut also splits easily, a big help in hewing the log faces square.
Of course, chestnut is durable; it basically will not rot unless it is laying on the ground where it stays water soaked. It is very light weight. The easy splitting, lasting ability, light weight, and availability made it the main choice for fence rails. There were several thousand chestnut fence rails in that little community of Ware's Ridge - I estimate at least 7,000 on our farm alone.
The nuts produced by the chestnut trees was a valued and much desired source of food for bears, deer, turkeys, squirrels, hogs, and, of course, humans. People gathered several bushels each fall and roasted, boiled, ate them raw, or used them in cooking such as chestnut dressing with turkey.

Dad and Mason cut, split, and sold a few truckloads of chestnut fence rails when I was a child. The trees had been dead for 20 - 30 years, but the ones still standing upright or leaning on another tree or rock were sound. I later helped cut and split a few hundred rails. Chestnut was our preferred species for kindling to start our fires - it splits easily, ignites easily, and burns hot.
Chestnut, along with the oaks, was a primary source of tannic acid used in tanning leather for many years. It may well be that its tannic acid content is what retards rot.

By the way, the wormy chestnut so in demand now was unknown to us then. The worm holes develop after the chestnut is used as lumber, logs, or rails. We used it directly from the woods so we rarely saw the worm holes that now make it so desirable.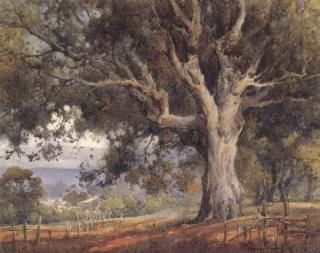 Oak Tree - Unknown
Trees're always a relief,
after people.
David Mitchell
A temporary fence that we used occasionally that came from the woods was a brush fence. It was simply brush piled in a row 4 or 5 feet high. It didn't last long, but it worked well with the sheep. It was not effective for cattle, horses, or hogs.

Another important tree was the hickory, especially the shellbark hickory. The nuts were a good source of food. We tried to gather at least a bushel each fall. We also had a few meals of squirrel and squirrel gravy each fall, killed around the hickory trees. Hickory bark was used to bottom the ladder back chairs that everyone had.
Hickory makes excellent hammer or ax handles because it doesn't split easily and it is resilient enough to absorb the vibration when using the tool. Mason always had a few bolts of straight-grained hickory without knots drying in the barn loft. He made most of his handles in the winter when there was not as much outside work to be done and the weather was too bad to work outside.
Hickory was one of the best sources of firewood. The heavier the wood, the more heat it releases when it is burned, and hickory is very heavy. It, along with some fruitwood such as apple, was the wood of choice for smoking pork hams and bacons.

Yellow locust was another very valuable wood. Locust is often the first tree to grow back in a cleared area that is abandoned back to woodland. It often grows along fence lines on the edge of pastures and fields and around rock ledges. It is another wood that is very resistant to rot. I once turned a piece of locust on a lathe. It was from a used fence post, the pointed end that had been in the ground for 30 - 40 years. The wood was perfect.
Locust was used for fenceposts. It was used in post-and-beam construction of buildings. It, too, is a very heavy wood, and makes excellent firewood. The locust bloom is one of the sweetest and most aromatic blooms in nature - really beautiful. Honey bees like it - an excellent source of honey. Locust has very pronounced yellow and tan grain that finishes well. It would be a beautiful furniture wood.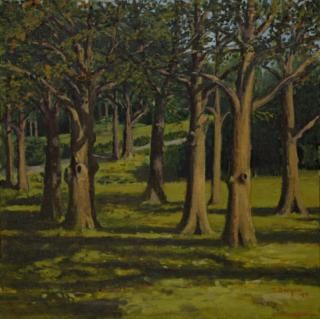 Stand of Oaks - Tim Dorgan
Forests are places where we can get
back in touch with our inner selves,
where we can walk on soft ground,
breathe in natural scents,
listen to the leaves crackling -
all the senses are awakened
stress melts away like snow.


Pierre Lieutaghi
Trees: The Balance of Life,
The Beauty of Nature
Woodland Meditation
Dan Gibson
The oak family was another valuable tree. The acorns provide food for many animals. The Indians ground acorns and leached the meal with water to remove its bitterness and made bread from it. The wood is wonderful. It is heavy, strong, and has a beautiful grain. We used red oak to make the shingles to roof our small barn.

We had very few walnut trees on our farm. There were 2 or 3 butternut which we called white walnut. We were a bit too high for walnuts and too low for hemlock or spruce.

We cut and sold some cords of pulpwood a few times when it was in demand. We cut and sold saw logs once in a while. We had logs sawed for lumber for our use. We sold all the mature timber on the farm to a sawmill operator. We used part of that money to install asphalt shingles on the sides of the house. It had poplar ship-lap siding on it. We removed that, nailed it back on flat, and put the shingles on over it.
We picked and sold several gallons of blackberries each year and found some ginseng once in a while to supplement our cash income.

The woods provided a lot of food for us. A deer, a turkey, or a mess of squirrels was always a welcome break in our diet of salt-cured pork. The same was true of the native brook trout that we caught, not from our woods but from a creek in a wooded area a few miles away. Other foods included wild strawberries, huckleberries, service berries, dewberries, and the traditional Appalachian spring food, ramps, all from our forest.
Another spring treat was sassafras tea made in the early spring from the bark of the red sassafras root. Many people tapped sugar maple trees in the early spring and made maple sugar and syrup. The bark of birch twigs can be made into a good tea and is an excellent thirst quencher when chewed.

In the early settlements in these Appalachian Mountains, the settlers let their hogs run wild. They did quite well with the food the forest provided. A controversy over a free-range sow and pigs was a major cause of the famous Hatfield-McCoy feud.

The woods provided the knots or burl wood that Mason used to make the knot mauls that we used to drive fence posts.

The woods provided many useful and necessary things for us. Growing up working, playing, or roaming over the farm, I developed a life-long love for the woods. I'm not a tree-hugger, but I do feel a sense of personal sadness when a beautiful tree is cut. But the forest must be managed for it to remain healthy. A big part of that management is cutting the mature, diseased, and injured trees and using them. Trees have a life cycle - they grow, they mature, and they die.
There is a virgin hemlock grove in the Chestnut Ridge State Forest on I - 68 east of Morgantown. It has some beautiful, huge, stately hemlock trees. They are awesome. But this area also has one or two trees lying on the ground. They died and fell. Each tree has enough board feet to frame a medium sized house, but it is lying there rotting - a shameful waste.
A neighbor on Ware's Ridge had a few acres of virgin timber, mainly red oak. It had some of the largest, most beautiful oak trees I have ever seen. After his death, the timber was sold, but many of the best trees had died, had split, were rotting, or had become hollow. Much of that very valuable resource was wasted.
We have to cut trees to maintain a healthy forest. Our national environmental policy has become too much dominated by tree huggers who have no education or practical knowledge of forest management. That is a major cause of the many devastating fires each year in the West.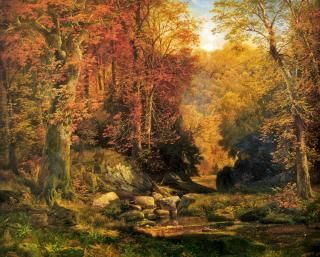 Woodland Interior with Rocky Stream - Thomas Moran
He liked the grand size of things in the woods,
the feeling of being lost and far away,
and the sense he had that with so many trees
as wardens, no danger could find him."


Denis Johnson
Train Dreams