Good Morning, Class of '64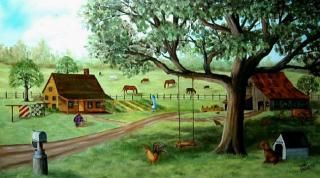 Grandpa's Farm - Patience - http://www.ebsqart.com
There is no doubt that it is around
the family and the home that
all the greatest virtues, the
most dominating virtues of
human society, are created,
strengthened and maintained.


Winston Churchill
Legacy of Ware's Ridge


Part Two - Conclusion
Abandoned Farm House - Robert Lafond
It's very easy to feel despondent when looking over what once was productive fields, houses, barns, and a schoolhouse/church. It would be easy to think that the work my dad, grandfather, uncle, and so many others did to build this little community was wasted. After all, man strives to build things that will last, things that put a permanent mark on the land. This community did not last.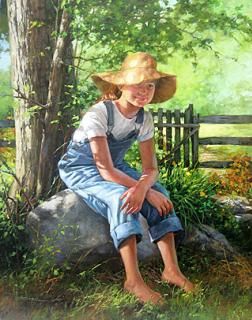 Life on the Farm - Anne Bridge
But their first priority was not to build a community. Their priority was to raise families, to raise responsible people. The community they built was a means to that end, not the end itself. Their main priority, their families, did last. In that little community,
I learned to read, and more important, I learned to love to read - Thanks, Mom!

I learned to be independent and self-reliant.

I learned to be responsible and to earn my keep.

I learned to work and to respect work and workers.

I learned about integrity and honor.

I learned to treat people with courtesy, a practical application of the Golden Rule.

I learned about God from the teaching of my parents and in that tiny Methodist church, but

I learned much more about God from the example my parents and the others in the community set. Many of those lessons I didn't learn very well - in my '60's, I'm still trying and still have a way to go.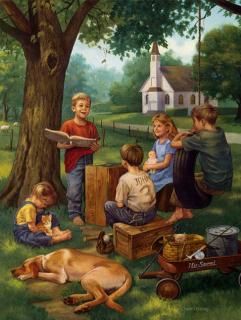 The Bible Tells Me So - Charles Freitag
Every child who grew up in this community learned these same lessons to a greater or lesser degree. These same lessons have been passed on to the second, third, and even fourth generation. It is impossible to count the people who have been influenced by this tiny community.
An indication of this influence is found in the people now living there. Many of the few people now living there are descendants of the original settlers. A reunion is held each summer with three or four generations coming back. Something pulls them back. People only come back to a place when there is a powerful attraction that comes from some very special memories.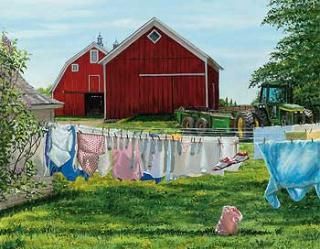 April Fresh - Rollie Brandt
The men and women who built this community accomplished mighty things. The forests they cleared, the buildings they built, the miles of fence they built, the food they raised to feed their families - awesome, but not lasting. The standards and values they inculcated into their families have lasted.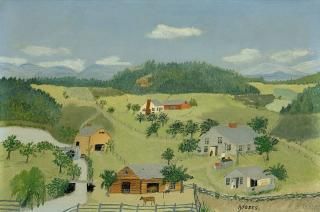 The Old Oaken Bucket - Grandma Moses
If our ancestors could look back over those hills where they invested so much sweat and blood, they may be sad. But probably not as sad as me. They understood, as I am only now beginning to understand, what is really important and lasting. If they could look back at their families and the generations following them, I think they would be proud. They certainly have reason to be.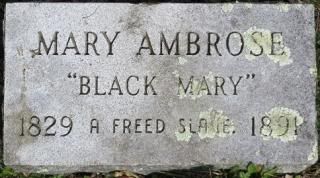 Most of the people who built the community are still there, in the little cemetery across the road from the site of the schoolhouse/church. The names from the community are all there - Beckwith, Beal, Gay, Ramsey, See, Wood, and, of course, Ware. An interesting monument reads simply
"Mary Ambrose, Black Mary, 1829 - 1891, A Freed Slave." She was a midwife and practical nurse in Valley Head but was buried at Ware's Ridge. Some objected to burying her in the Valley Head Cemetery. I am proud of my community that they let her be buried there.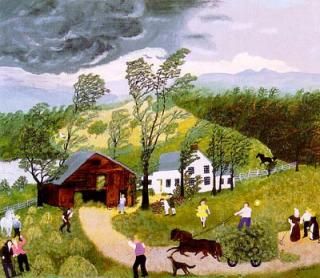 Thunderstorm - Grandma Moses
The physical bodies of the founders of this community have long since returned to the dust from which they came, just as the farms are returning to the forest from which they came. Yet the most important part of these people still lives and will live eternally, just as the important part of this obscure little community will live forever.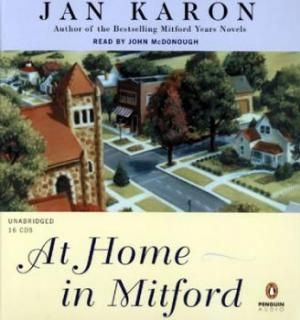 This little community, Ware's Ridge, at the top of the Logan Run Road, near Valley Head, West Virginia, won't be in many history books. It will never be as well known as Lake Woebegone, Bedford Falls, or Mitford. It really wasn't much - a few subsistence farms perched precariously on the top of some rocky ridges, a few people whose stories will only be recorded in the "short and simple annals of the poor." But it was really so much more.
Out to Pasture - Charles Freitag
It is all right to look at the brushy fields where corn once grew, the fallen-down buildings and fences, and the tree-covered pastures where once fat cattle and sheep grazed with a tear in the eye. But do not think that all of that hard work was wasted. It was not wasted; it was extremely productive. Our ancestors in this little community built farms, buildings, and fences. But most of all, they raised responsible people. Their influence continues to the third or fourth generation.
Youngsters at Family Reunion Ware's Ridge
No one raised on Ware's Ridge ever became rich or famous, but no one went to jail. Each person I know of raised in that community worked hard and lived a productive, responsible life. If I could choose to be born at any time in history, to any parents, or in any place, I would choose to be born when I was, to my parents, on Ware's Ridge. They, and that community, gave me a priceless legacy, one I'm still trying to fulfill.
I am richly blessed.
The most extraordinary
thing in the world is...
an ordinary man
and an ordinary woman
and their ordinary children.


Gilbert Chesterton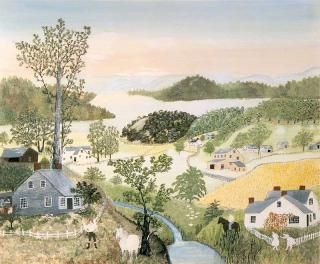 A Beautiful World - Grandma Moses
Sentimental Journey


In 1945 Sentimental Journey was Doris Day's
first hit song. The song's release coincided with
the end of WWII in Europe and became the
unofficial homecoming theme for many veterans.
It lasted 23 weeks on the chart, peaking at #1.
The Platters covered it in 1963.
http://en.wikipedia.org/wiki/Sentimental_Journey_%28song%29


The Platters - 1963
Gonna take a sentimental journey
Gonna set my heart at ease
Gonna make a sentimental journey
To renew old memories

Got my bag, got my reservation
Spent each dime I could afford
Like a child in wild anticipation
Long to hear that 'All aboard'

Seven, that's the time we leave, at seven
I'll be waiting up for heaven
Counting every mile of railroad track
That takes me back

Never thought my heart could be so yearny
Why did I decide to roam?
Gotta take that sentimental journey
Sentimental journey home

Sentimental journey home
A family is a place where
principles are hammered
and honed on the anvil
of everyday living.


Charles R. Swindoll